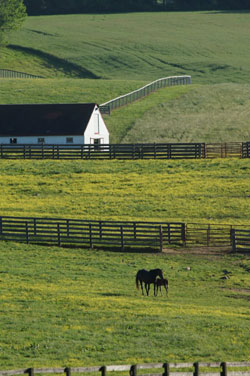 Boarding Requirements for the 2019 Season:
Boarding Rate for Non-Resident Mares: $25.00 a day
Boarding Rate for Non-Resident Foals: $ 5.00 a day

All Mares arriving at Bonita Farm to board should be accompanied by a current negative coggins test or have a copy on file with the Farm's office. A Mare Information Form must be completed prior to Mare being bred.
ALL MARES SHIPPING TO BONITA FARM TO BOARD ARE REQUIRED TO HAVE BEEN VACCINATED FOR RHINOPNEUMONITIS BETWEEN 7 AND 90 DAYS PRIOR TO ARRIVAL.
In addition to Rhinopneumonitis, Bonita Farm recommends that prior to boarding with us Mares are up to date on vaccination for the following diseases: Influenza, Tetanus, Encephalomyelitis, Rabies, Botulism, Strangles, West Nile Virus and Potomac Horse Fever. A written record of these vaccinations and the dates administered should accompany the Mare or be on file with the Farm's office.
All foals born at Bonita Farm will be receiving at least one treatment of Rhodococcus equi hyperimmune plasma to help prevent R. equi pneumonia.
At least 24 hours notice is requested prior to arrival or departure of your mare. ALL ACCOUNTS ARE REQUIRED TO BE SETTLED AT TIME OF DEPARTURE IF PRIOR ARRANGEMENTS WITH BONITA FARM HAVE NOT BEEN APPROVED.