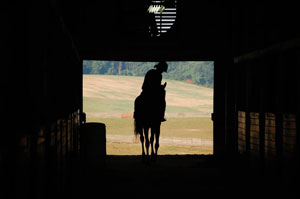 "Six years ago, my wife and I fulfilled a dream by buying a 50% interest in a Bonita Farm yearling. As our filly trained, raced, won at the track, won at Steeplechase, joined the broodmare band and is now expecting her first foal; the Boniface's patiently taught us the game. Teaming with Bonita Farm has been a wonderful, fun ride. The Boniface's take remarkable care of their horses and their owners.
Visit the farm. The horses are amazing, the farm is beautiful, and the people are sincere. We thoroughly enjoy every visit."
-Mike & Joanne Dalton
---
"Since 1983, my wife and I have relied on the Boniface family and Bonita farm as a one stop solution for our thoroughbred breeding and racing program. Along the way, we have been fortunate to win several open stake races and a number of Maryland-bred and Maryland Million stake races. Most of our horses have never lived away from the beautiful Darlington location which Bill and Joan have crafted into a complete training and breeding facility. Kevin currently trains for us the offspring of our three broodmares which young Billy manages with skill and care. We cannot say enough about this fine family of Maryland horsemen whose roots go deep into our State's rich thoroughbred history."
-Richard and Susan Granville
---
"I have been around horses my entire life, but in 2007 I was in search of something different. I wanted a place I could go and feel at home and not have the worry of caring for my animals or concerned about unforeseen expenses that may come up when operating a horse farm. I found exactly what I was looking for in Bonita Farm of Darlington, Maryland. There I can go watch my horses train, visit with other owners and take comfort in knowing my horses are receiving the best possible care available. I have visited the farm over 150 times, mostly on Saturday mornings when a lot of the action takes place. I have always been welcomed with enthusiasm and always made to feel as if I am part of the Bonita Farm family. At the farm I have seen my mares foal, watched then turn into race horses through the years and visited the winners circle multiple times. I've been pheasant hunting, horseback riding, and attended weddings on the farm. I have been able to bring my family to the farm and share a part of my hidden heaven. For me, Bonita Farm allows me the opportunity to get away and become a part of nature and the real outdoors. It's a hidden heaven."
-Eric Long